Minister Ken Colman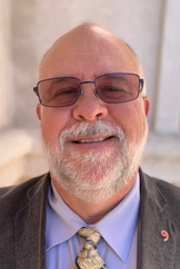 Ken Colman grew up in five countries in Asia as his father worked for United States Agency for International Development as an educator. Ken was born in Iran, then moved to Nepal, Thailand, Laos and graduated from high school in Afghanistan. He moved to the United States in 1978 as he started college at Oregon State University in Corvallis, Oregon. While going to University, he started to attend First Congregational, UCC, in Corvallis. In those first years living in the United States Ken felt the call to go into the ministry, and transferred to Pacific University, a UCC related Liberal Arts University in Forest Grove, OR. While at Pacific Ken met Tracy and they were married in his last year at Pacific. After graduating from Pacific, he served as the Youth Intern for the Board for Homeland Ministries in New York City. At the completion of that year, he had been accepted and entered Andover Newton Theological School in January of 1986. In spring of 1990 Ken graduated and was ordained in the Central Pacific Conference of the United Church of Christ. He has now served churches in Weeping Water, NE, Omaha, NE, Colorado Springs, CO, Renton, Washington, and Alpine, California, and will be serving as interim pastor at First Christian Church in Bremerton.
His ministries have included working with children and adults in Christian Education. He has served in community, Ecumenical and Inter Faith groups. Serving for many years as chair and on the Board of Renton Ecumenical Association of Churches.  In the City of Renton, he co-led a Domestic Violence Task Force, organizing a Men's March against Domestic Violence. He has been a Councilor or Director at UCC and DOC camps for over 25 seasons in four different conferences and two regions. Reaching out in love to those in the church and outside the church are all part of his mission as he offered free coffee outside his church in Renton for over ten years, waving and serving all that stopped. He has been involved in Kiwanis helping with fund raising and outreach to the children and youth of Alpine.
Ken's priority has always been his family. Tracy and Ken love to travel and walk on any beach. They have two adult children their daughter living in San Diego area and their son in West Seattle with his beautiful wife. They also have a dog that is most definitely part of the family along with two grand-dogs. He is excited with this new journey in Bremerton.
Copyright © 2003 First Christian Church of Bremerton. Stained glass by Fred Hereth