Minister Clint Collins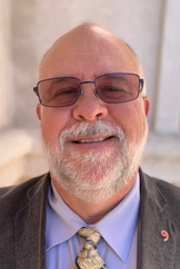 Clint Collins is a lifelong Disciple of Christ who originally hails from farm country in central Missouri.
After receiving degrees in computer science and history at the University of Missouri-Rolla (now the Missouri University of Science and Technology), Clint moved to Oklahoma to attend Phillips Theological Seminary.
While earning his Master of Divinity degree at Phillips, he was also called to serve as the pastor of First Christian Church of Tahlequah, Oklahoma, and served on various commissions and ministries in the Oklahoma Region.
In 2011, Clint enrolled at the University of Chicago where he pursued graduate studies in political theory and political science before returning to congregational ministry.
He accepted the call to serve as the Transitional Pastor for St. Peter Community Church (UCC) in Northfield, Illinois, in the summer of 2013, and helped the congregation find a new path forward which culminated in their decision to merge with Northfield Community Church (UCC) in the fall of 2016.
During that time spent as an ecumenical partner in the Chicago Metro Association (CMA) of the United Church of Christ, Clint served on the Committee on Church and Ministry of the CMA, mentored UCC candidates seeking ordination, and maintained his connections with the Disciples by serving as a clergy ethics investigator for the Christian Church in Illinois in Wisconsin.
As he concluded his ministry in the Chicago area, the people of First Christian Church of Bremerton extended him the call to come serve as their pastor.
Clint is excited to be a part of this caring, generous, and welcoming community as they serve their neighbors and share Godís good news from Kitsap County to the ends of the earth!
Copyright © 2003 First Christian Church of Bremerton. Stained glass by Fred Hereth